http://zieki.zxq.net/


**Warning** This post does request money at the end, not to be rude, just really in need of help. But not only money, your warm furry happy wishes for zieki or also very appreciated. I think the story itself is rather good too. Cross-posted through some cat loving communities, sorry if you see a repeat.**

I heard meowing on my way in the door one Saturday around 5 pm. This is not un-common as the downstairs neighbors have kitties that usually sit in the window and i like to meow back at them. Instead I saw a cat that looked exactly like Zieki, Kirstens little fluffy cat. Slight disbelief occurred in believing this was our cat, because he doesn't even like to go outside. So I scooped him up, concerned that he got out, but not too worried, and brought him indoors.

As soon as I put him down, I screamed, because he immediately fell forward and proceeded to flop like some horrible type of fish out of water. He had broken his legs! (i thought it was just one, but turns out to be both). This was a really horrible thing to see and no pet-owner should ever see their pets like that.

He didn't deserve this, he is such a nice cat. Never an angry thought in his cute little fluffy head. (Hes technically not mine, but we are very close and my cat Zander and him are good at being fluffy together) He is also not the brightest one, and I would never have believed he could be so brave.

2 broken legs! He was crying outside, but as soon as I had him in my arms he seemed fine. I was so impressed with him.

Luckily the huge cat hospital in Boston happens to be a short distance away, so he was in excellent care within a half hour. He was there from Saturday night to just coming home on Thursday.

While they took him away from us to check all his bones and then having to do 2 surgeries, one on each leg, I discovered some awful news. He had fallen out the window (3rd story) the night before! Me and his mother Kirsten had both been out that night and since we have a rather large house it was not unusual to not see a cat for a little bit. Turns out he fell out with the window screen and must have been knocked unconscious for a bit. Our downstairs neighbor found the screen and saw a cat (one of our 3rd roommates cats - Mio) in the window and panicked thinking she might fall out or jump and when she alerted our other roommate, I guess she acted like "oh whatever, thats weird". I'm really angry with her, she checked for her 2 cats (who happen to be rather nasty bitches I must say) and not for Zieki or Zander.

So the poor thing who doesn't like to be outside spent his first (and lets hope only) night outside in immense pain. Its so horrible.

But! The good news is that he made it through his surgeries wonderfully. Everyone at the vet fell in love with him and said he just kept purring and was happy to let them help him. When he came home on Thursday they said he probably wouldn't feel up to walking for at least a week, but he refused to even lay down! He was walking all over the place, exploring and enjoying the attention. He even jumped up on the bed (we tried to stop him of course) and did one of his most favorite things - hang out in a paper bag. He is doing so damn good and I'm really proud of him. Kirsten herself has been doing okay too, managed to stay mostly calm in the stress of all this including the financial cost. (There was never a minute in which we considered not to do the surgery, even though the vets kept asking about seeing finance people)

My friend made a quick website, where you could donate if you like, as the vet bills are over $5000 and we are rather poor people:

http://zieki.zxq.net/

But more importantly it also has some wicked cute photos of him and should be updated in a few minutes with pictures of him looking all silly and shaved after surgery. We'll continue updating his recovery too.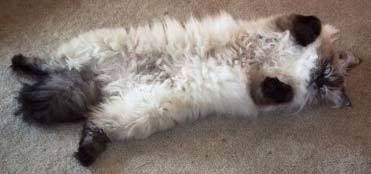 </a>

Much love from out kitty family to yours,

Lindsey

Moderators - please let me know if you prefer this be removed or behind a cut or anything, I'd be happy to oblige. <3